News
June 11, 2019
2019 Grants & Awards Competition
Announcement
Research Manitoba and our partners are pleased to announce the successful recipients for the 2019 Grants & Awards Competition!

Click here to see the full listing.

August 1, 2017
Research Manitoba – Strategic Planning
In the 2017 Provincial Budget, Research Manitoba received a $2 million cut to its budget, which is now $15 million annually. 
Research Manitoba is reviewing its organizational priorities and will align our programs with strategic goals identified through this process.  This could mean significant change for existing programs and will result in a delayed roll-out of 2018 programming and research competitions.  Research Manitoba values stakeholder input and wishes to provide every reasonable opportunity for engagement in this process.  The first step in this process is a stakeholder survey, which is available at: https://www.surveymonkey.com/r/T9YPWSV. 
The survey will end on Friday, September 15, 2017.
August 18, 2015
Province Announces more money for dementia research in Manitoba
Today's announcement recognizes Dr. Benedict Albensi as the recipient of the Manitoba Dementia Research Chair.  Albensi is a professor in the department of pharmacology and therapeutics, faculty of health sciences, college of medicine, University of Manitoba and principal investigator, synaptic plasticity and cellular memory dysfunction in the neurodegenerative disorders division of St-Boniface Hospital Research Centre.
Click here to read the full release.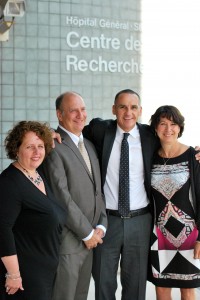 January 29, 2015
First Canadian clinical trial studying ability of mesenchymal stem cells to treat multiple sclerosis
The Multiple Sclerosis Society of Canada and the Multiple Sclerosis Scientific Research Foundation announced today a $4.2 million grant  in support of the MEsenchymal Stem cell therapy for CAnadian MS patients (MESCAMS) study led by Dr. Mark S. Freedman (Ottawa Hospital Research Institute / University of Ottawa), who is also the principal investigator at the Ottawa site, along with the principal investigator of the Winnipeg site  Dr. James J. Marriott (University of Manitoba) and colleagues. Mesenchymal stem cells (MSC) – found in many places in the body including the bone marrow, skin and fat – have been demonstrated to suppress inflammation and repair nerve tissue, positioning them as promising candidates for the treatment of MS. As a number of pioneering small studies have established the safety of administering MSC in humans, the excitement surrounding MESCAMS is profound. Taking place at two Canadian sites – located at The Ottawa Hospital and Health Sciences Centre (HSC) Winnipeg – MESCAMS will provide more definitive answers regarding the use of MSC to treat persons living with MS.  Read more…
December 16, 2014
Manitoba Dementia Research Chair
Research Manitoba is pleased to announce a partnership with the Alzheimer Society of Manitoba to develop and support a Manitoba Dementia Research Chair. This award will support an internationally recognized early to mid-career researcher who works as an independent investigator in dementia research. The Chair is a five year award intended to increase the profile and productivity of dementia research in Manitoba.  Read More…

NOTE – On June 19, 2014 MHRC became Research Manitoba.
Prior to that date the Manitoba Health Research Council will be the name of the organization in the news/stories.
March 11, 2014
Presentations – MB Research Chair in Health System Innovation
The Manitoba Health Research Council, together with the University of Manitoba is undertaking a joint recruitment for a Manitoba Research Chair in Health System Innovation to be placed within the Centre for Healthcare Innovation.
There are three candidates who made a presentation of their work as part of the recruitment process on March 5, 6 & 7, 2014. The presentations were recorded and can be viewed by clicking on the links below.
March 5, 2014 – Sara Kreindler
March 6, 2014 – Paul Komenda
March 7, 2014 – Josée Lavoie
February 21, 2014
GOVERMENTS SUPPORT HEALTH RESEARCH IN MANITOBA
SUPPORT Unit Builds Foundation for Patient-oriented Research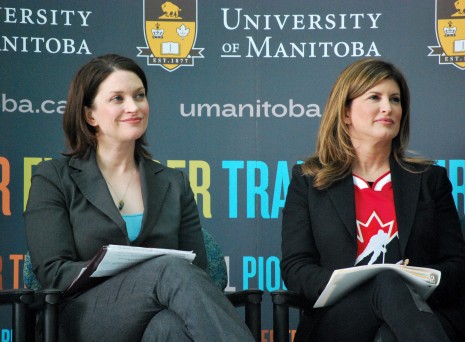 Federal Health Minister Rona Ambrose and Manitoba Health Minister Erin Selby were joined by Dr. Alain Beaudet, President of the Canadian Institutes of Health Research (CIHR), and Dr. Digvir Jayas, Vice-President Research, University of Manitoba, to announce the launch of the Manitoba SUPPORT Unit for patient-oriented research.
Province of Manitoba – News Release
Centre for Healthcare Innovation
The CIHR Institute of Health Services and Policy Research (IHSPR) has re-launched the e-Health Innovations Catalyst Grant in partnership with the CIHR Institute of Aging (IA) and the International Development Research Centre (IDRC).
Funding opportunity objectives: The aim of the e-Health Innovations Catalyst
Grant is to fund novel approaches to e-health innovation that will improve the
quality of patient and population centered care and improve Canada's
competitive position in the e-health innovation industry. The proposed research
must evaluate cost and at least one of the domains of quality including
effectiveness, efficiency, equity, patient centeredness, safety and timeliness.
To learn more about the opportunity and how to apply – Click here.
To register for the informational webinar – Click here.
Dr Jane E Aubin, Chief Scientific Officer and Vice-President for research and knowledge translation, Canadian Institutes of Health Research
Dr Jane E Aubin, the Canadian Institutes of Health Research's Chief Scientific Officer and Vice-President for research and knowledge translation, offers an exclusive insight into the funding agency's new strategy for patient-orientated research.
Read the article in Research Media Ltd. – Click Here