Job Opportunities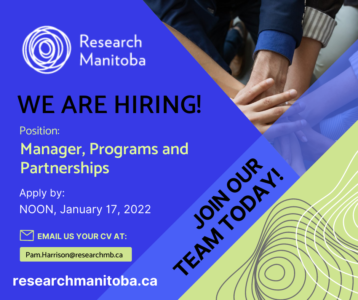 ______________________________________________________
Opportunity

Position: Manager, Programs and Partnerships (Permanent – Full Time)
About Research Manitoba
This is an exciting time to join the Research Manitoba team as we take our organization to the next level. You will become a part of our journey which is making real change in our province. This is a place where your unique background, perspectives and talents are valued, and shape our future success.
At Research Manitoba we measure our success by our ability to advance research, champion the research community, support local talent development, and strengthen the economy by fostering innovation and investing in research.
We are the central, provincial agency responsible for promoting, supporting, and coordinating the funding of research excellence and innovation in health, natural and social sciences, engineering, and the humanities in Manitoba. We offer a variety of programs and funding support for students, researchers, and industry, along with partnership opportunities, which strengthen Manitoba's research enterprise. In addition to being a hub for research and innovation, we operate the new Research Improvements Through Harmonization in Manitoba (RITHIM) program to streamline the research ethics, privacy, and impact reviews required to conduct health research in Manitoba. The first phase of RITHIM launched officially in January 2022.
We offer a small, team-oriented, flexible hybrid work environment with competitive compensation and benefits, as well as opportunities for professional development and growth. Our dynamic team is dedicated to positively impacting our communities, collaborating, and fostering partnerships both locally and nationally, and most importantly, is committed to creating an equitable, diverse, inclusive organization.
Position Summary:
The Manager Programs and Partnerships (Manager) is responsible for the overall management of current research and innovation funding programs and partnerships, and the development of new opportunities. This position is critical to developing and maintaining Research Manitoba's relationships with stakeholders in Manitoba's research enterprise. Reporting to the Chief Executive Officer, the Manager works collaboratively with other members of the Research Manitoba team.
This position is ideally suited to an individual who values the essential and extensive role that research plays in enhancing the lives of Manitobans and creating economic growth within our province. The Manager should be comfortable meeting new people, identifying key relationships and fostering collaboration and partnerships.  He/she/they should have the ability to recognize potential opportunities and assist individuals and groups as they negotiate the complicated research environment.  The Manager should be comfortable with ambiguity and be able to articulate and support the philosophy of Research Manitoba.
Skills And Strengths We Are Looking For
-An undergraduate degree in education, health sciences, administration, arts, or social sciences.
-A minimum of five years' experience in program and partnership development, management, and evaluation.
-A demonstrated ability to think strategically and develop innovative solutions to achieve strategic objectives.
-Self-motivated and able to work collaboratively in a team environment.
-An understanding of the research process and its role in informed decision-making.
-Strong interpersonal skills with the ability to develop and maintain relationships.
-Experience working with key stakeholder groups such as government, not for profits, research institutions, academia, industry, and Manitoba sector councils.
-Strong written communication skills, including the ability to synthesize and incorporate data into written reports for a variety of audiences.
-Strong oral communication skills, including the development and delivery of effective public presentations.
-An understanding of the current state of research in Manitoba and across Canada.
-Experience conducting basic budgeting, evaluation, and financial analysis.
-Proficiency in word processing, spreadsheet use, and database utilization.
You are invited to submit a letter of interest and resume/CV that details how your qualifications match this opportunity by no later than 12pm NOON, Monday January 17, 2022, to:
ATTN:   Ms. Pam Harrison, CPA CGA
               Director Finance & Administration  
               Email: Pam.Harrison@researchmb.ca
While only those individuals selected for an interview will be contacted, we extend our appreciation to all applicants for their interest.
To learn more about Research Manitoba watch our video by clicking on the link below: https://www.youtube.com/watch?v=BcZGUOG7UDo.