On Feb 5, 2014, 30 researchers and stakeholders came together to hear about themes and discuss opportunities for primary prevention research in Manitoba.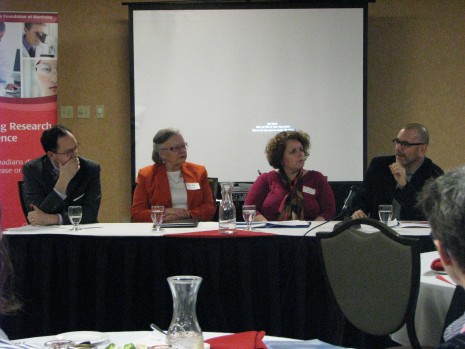 An expert panel shared insights into 4 topics influencing primary prevention research in Manitoba. Here is what they had to say:

– There is increasing interest in outcomes of primary prevention.  The challenge is agreeing on the indicators, particularly in the area of healthy eating/healthy weights. (Ms Doris Mae Oulton, Alliance for the Prevention of Chronic Disease)
– Restructuring at the University – to support cross collaboration among conventional silos and integration , not just to increase the effectiveness of individual researchers/research areas but to raise the bar for the entire research community.  A key challenge is easing the translation of knowledge amongst the silos and with the broader public.  (Dr Peter Nickerson, Associate Dean of Research, Faculty of Medicine, University of Manitoba)
– Researchers are being challenged to think about "clusters"  – to  focus on what cannot be achieved by one individual.  There is a program being put in place to identify/potentially support both existing collaborative teams and the development of new teams. This may be an opportunity for the primary prevention research community to consider. (Ms Christina Weise, Executive Director, Manitoba Health Research Council)
– There are learnings along the way in focused primary prevention research and an importance of interdisciplinary teams working together. (Dr Alan Katz, Manitoba Research Chair in Primary Prevention)
Clearly, researchers will continue to be challenged by:
– Ensuring accountability and transparency within the research community and beyond to funders and the general public;
– Focusing on immediate knowledge transfer that can shorten the time line from research to application by the end user; and
– Asking the right questions, including engaging the end user in defining what is useful research.
For more info or to discuss ideas, contact Christine Houde: (choude@heartandstroke.mb.ca) 204.949.2015. 
A full record of discussion of the session can be found at:
www.heartandstroke.mb.ca/primaryprevention
Visit www.heartandstroke.mb.ca/primaryprevention for communication updates, funding opportunities and further info about investments into primary prevention research.