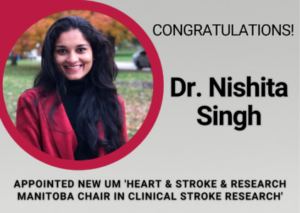 NEWS ANNOUNCEMENT
For Immediate Release
Thursday, April 6, 2023 – Winnipeg, Manitoba
Research Manitoba, Heart & Stroke, and the University of Manitoba have partnered to fund a new UM research chair in neurological stroke.
Dr. Nishita Singh, an accomplished neurologist and research scientist who comes to UM from the University of Calgary, has been appointed to the new position, called the Heart & Stroke & Research Manitoba Chair in Clinical Stroke Research.
Announcement of the Heart & Stroke & Research Manitoba Chair in Clinical Stroke Research at UM:


When:
Thursday, April 6, 2023, 10 a.m. to 11 a.m.
Where:
John Buhler Research Centre Atrium
715 McDermot Ave.
Bannatyne Campus, University of Manitoba
The chair, which has a five-year term, is based in the department of internal medicine at the Max Rady College of Medicine in the Rady Faculty of Health Sciences. It is the first chair in clinical stroke research to be established in Manitoba. Singh will hold the rank of assistant professor.
This marks the first time Research Manitoba (the provincial agency that supports health research), Heart & Stroke (a charity dedicated to healthy lives free of heart disease and stroke), and the University of Manitoba have jointly created a research chair. Heart & Stroke contributed $500,000, Research Manitoba $300,000, and UM $200,000 to the chair's total funding of $1 million ($200,00 per year for five years).
"We are very excited to be celebrating the innovative partnership with Heart & Stroke and the University of Manitoba establishing the inaugural Heart & Stroke & Research Manitoba Chair in Clinical Stroke Research," said Karen Dunlop, CEO, Research Manitoba. "This new initiative will support our shared commitment to excellence by enabling Dr. Singh and her team to accelerate and advance clinical stroke care to the benefit of Manitobans, Canadians, and people around the globe through world-class research and contributions to the innovation enterprise in Manitoba."
"We are grateful to our partners, and in particular to a very generous Heart & Stroke donor, for helping us to bring Dr. Singh to our province to fill this vital role for our stroke system," said Christine Houde, Heart & Stroke director of health systems and policy in Manitoba. "In addition to advancing clinical stroke research at UM, Dr. Singh will be a welcome addition to our collaborative stroke team that champions the Canadian Stroke Best Practice guidelines in our stroke system."
Houde added that, ultimately, the new chair will lead to enhancements in the diagnosis and treatment of stroke patients in Manitoba and result in improved outcomes.
Dr. Mario Pinto, vice-president (research and international) at UM, noted the new chair represents an important step forward for clinical stroke research in Manitoba.
"We are delighted to welcome Dr. Singh, who will provide leadership, scholarship and mentorship in clinical stroke research and stroke treatment; assist with integrating the best practices in stroke care; work with other stroke researchers provincially, nationally and internationally; and contribute to attracting other experts and trainees in this field to UM," he said.
Biography – Dr. Nishita Singh
Dr. Nishita Singh completed her medical education and neurology residency at the All India Institute of Medical Sciences. From 2019 to 2022 she held a stroke fellowship at the University of Calgary, where she was recognized as chief stroke fellow.
Singh has published extensively in the area of stroke treatment. She has been involved in large clinical trials such as the AcT Trial, which led to changes in clinical guidelines within Canada and globally for the treatment of patients with acute stroke.
In Calgary, Singh received the 2021 Foothills Medical Centre Physician of the Year Award for a resident or fellow, recognizing her outstanding contributions during the pandemic. She was the fellow lead for the Canadian Stroke Consortium and continues to participate on its education, research and fellowship committees.
She is a principal investigator on StrokeCog, an equity, diversity, inclusivity and accessibility-centred training platform funded by the Canadian Institutes of Health Research. StrokeCog is developing a new generation of diverse stroke clinical trial leaders, with the goal of conducting more inclusive trials.
She is also principal investigator for a current study funded by Brain Canada.
Singh's primary interest is in carotid artery disease, which encompasses multiple disease states, such as narrowing or tearing of the carotid artery, and increases the risk of stroke across all age groups. She envisions running a large, real-world clinical trial related to carotid artery disease.
*NOTE: Two Manitobans with lived experience of stroke will be available for interviews.
-30-
For more information please contact:
Tammy Hildebrand, Manager, Communications
Research Manitoba
P: 204.797.3258
E: tammy.hildebrand@researchmb.ca
To download the PDF version of the Full News Release please click here