Annual Reports
October 10, 2022 – Research Manitoba was pleased to release our 2021-22 Annual Report, "A Source of Research Excellence", including Financial Statements on September 30, 2022. The report is now available online and available to stakeholders.
The report features a summary of Research Manitoba's past year of successes, highlights our programs and funding, and includes messages from Andrea Legary, Chair of the Board and Karen Dunlop, Chief Executive Officer.
Thank you to our funder, the Department of Economic Development, Investment and Trade, and to the research community in our province – your dedication to championing our researchers and building strong connections is so important to advancing research in Manitoba.
Click HERE to view the 2021-2022 Annual Report NOW!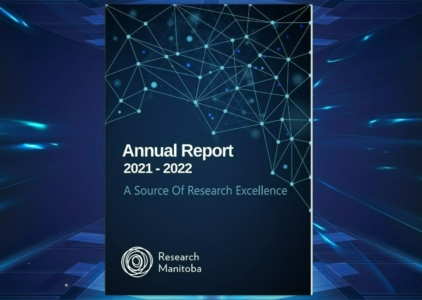 Click HERE to download the PDF version of our 2021-22 RMB Annual Report.
VIEW ALL PAST ANNUAL REPORTS BELOW BY CLICKING ON IMAGE