Former U of M student Andrea Kroeker is realizing her passion for research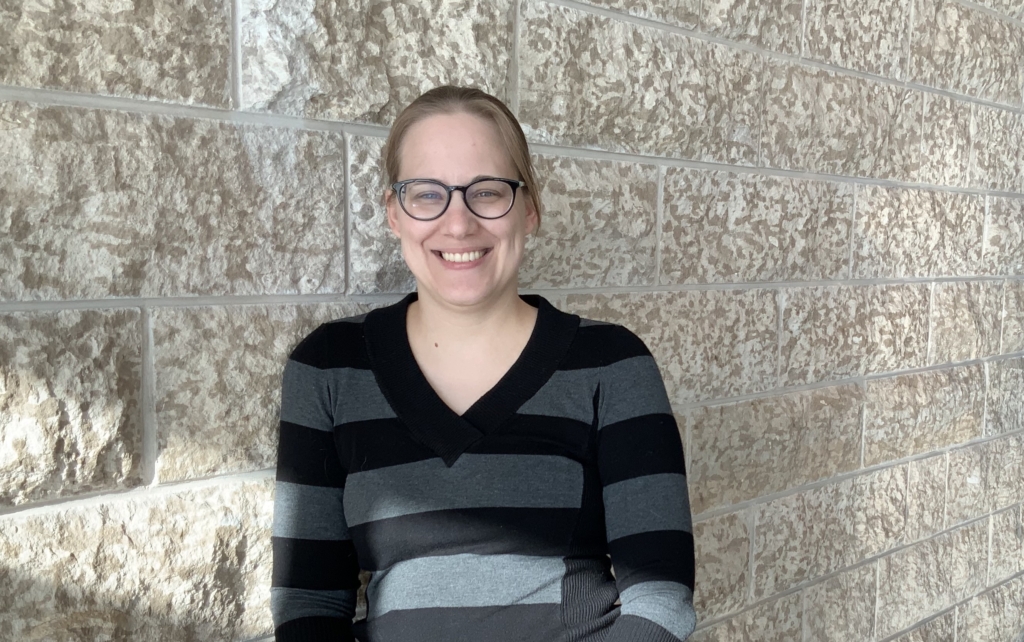 By Brian Cole
Published February, 2020
In her early days as a student at the University of Manitoba, Andrea Kroeker never envisioned herself working as a researcher at the Canadian Food Inspection Agency (CFIA). Nor did she think she would end up spending most of her time performing experiments on potentially deadly viruses at the National Microbiology Laboratory in Winnipeg.
Indeed, Kroeker thought it seemed more likely that she would pursue a career in genetics, possibly as a counsellor. "This would have involved working in a hospital setting and explaining genetic diagnostic testing to patients," she says.
But then things changed in the fall of 2007 when Kroeker took a course being offered by the university's Department of Zoology. The course included a small research project that involved using zebrafish to investigate how a certain protein contributed to eye development. It didn't take long for her to realize that a life dedicated to scientific inquiry would be a perfect fit for her.
"I just fell in love with research," she says. "I really loved the experimentation process – having a question, finding a way to set up an experiment to answer that question, and then getting the data and thinking about what it means. Working with fish and watching their embryos develop under the microscope was also pretty interesting."
And so, in the fall of 2008, Kroeker decided to enroll in the university's Department of Physiology. It didn't take long for her to establish herself as a young up-and-coming scientist.
As a Ph.D. student in 2011, she was featured in a Wave magazine report highlighting some of Manitoba's promising young scientists. At the time, Kroeker was working on a research project, partly funded by the Manitoba Health Research Council (now Research Manitoba) and the Manitoba Institute of Child Health (now Children's Hospital Research Institute of Manitoba), that showed how the influenza virus used certain cell proteins in the body to replicate. She published a paper on the topic in 2013, and the information can now be used in other studies to determine if influenza replication can be disrupted, possibly by using drugs that are currently on the market.
Upon receiving her PhD in 2015, Kroeker first worked at the Public Health Agency of Canada (PHAC) as a postdoctoral fellow for one year and then became a postdoctoral fellow at CFIA in 2016. Since then, Kroeker has spent most of her time developing and testing diagnostics as well as testing novel antiviral and vaccines for a high consequence viruses such as Ebola virus and Rift Valley Fever virus.
Kroeker says her lab is currently about halfway through a two-year study to determine the effectiveness of several vaccines for Rift Valley Fever that have been developed by a company in Morocco. If the testing proves successful, it will lead to the eventual manufacture and distribution of vaccines in Africa to help control endemic diseases that have significant impacts on human and animal health and well-being.
CFIA has labs across the country, but the Winnipeg lab, located at the National Microbiology Laboratory, is the only one that studies diseases foreign to Canada, partly because it is the only one in the country capable of handling dangerous viruses.
"Both CFIA and PHAC have level three and four lab facilities in this building, so we are well-equipped and trained to study potentially deadly viruses," she says. "It is an amazing place to work."
In addition to conducting research related to level three and four viruses, CFIA has participated in efforts to help set up and train staff in diagnostic labs in other countries. CFIA has also established a network of level four labs around the world to co-ordinate research on various viruses.
Kroeker says she spends about 80 per cent of her time in the lab, planning and performing experiments, and analyzing data. She also says the skills learned working on projects as a student have prepared her well for the work she does today.
"In terms of lab skills, there are many types of experiments that transfer between different labs and different projects," she says. "For example, I have used cell culture and some basic molecular and virology techniques during both my graduate and postdoctoral studies. However, a PhD also sets you up to learn and explore whatever you need to answer the question at hand, and so my skills and knowledge have grown immensely in new areas as well."
Looking ahead, Kroeker plans to continue pursuing vaccine related work.
"As we've seen with the eradication of smallpox and the efforts to control highly infectious diseases like rabies and measles, effective vaccines have a huge impact on our health and can be life-changing. It is such a rewarding area of research to me."
Brian Cole is a Winnipeg writer.