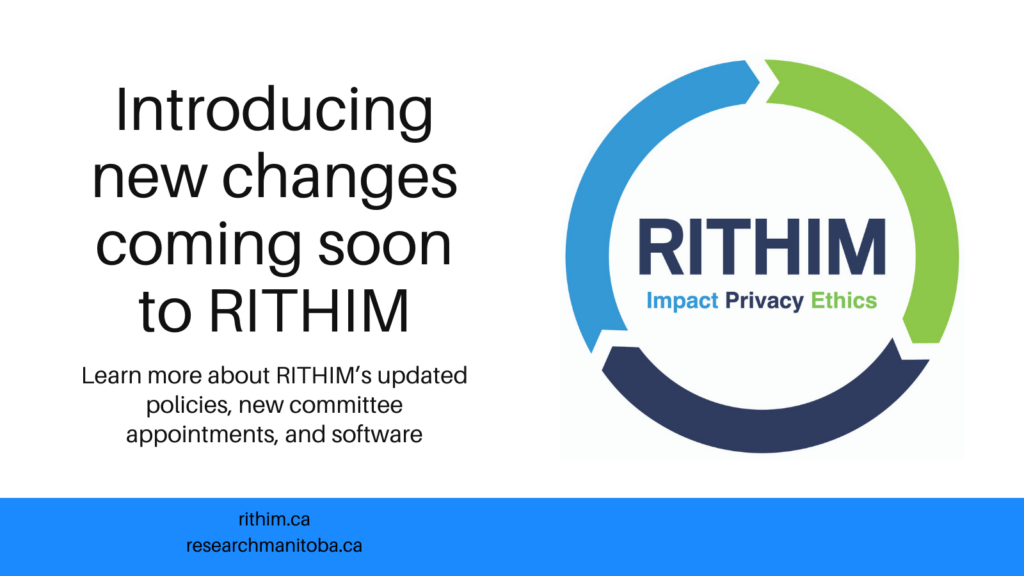 A message from Karen Dunlop, Research Manitoba CEO
Thursday, October 19, 2023 – Winnipeg, Manitoba.
There has been a great deal of activity for Research Improvements Through Harmonization In Manitoba (RITHIM) since our last update, and we have some important news to share with the research community.
Key activities include:
Discontinuing the current software build and moving toward a search for an alternate vendor.
Building business processes to support the future state of RITHIM, including establishment of harmonization processes.
Developing Committee for Harmonized Health Impact, Privacy, and Ethics Review (CHIPER) policies and procedures with the recent approval of chair, vice-chair and member terms of reference.
Appointing four new Provincial Health Research Privacy Committee (PHRPC) members and adding a new committee vice-chair role.
Designing the committee review processes and communications components for the electronic research administration system.
To download the PDF version of the news release, please click here.
Contact:
Research Manitoba
204-942-8702 | info@researchmb.ca | researchmanitoba.ca
Research Manitoba:
Research Manitoba promotes, supports, and coordinates the funding of research excellence and innovation in health, natural and social sciences, engineering, and the humanities in Manitoba. Research Manitoba supports local talent development by providing research support to early career researchers and graduate students, along with fostering strategic partnerships to strengthen research and innovation in Manitoba.