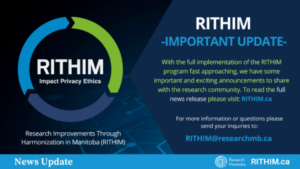 NEWS ANNOUNCMENT
For Immediate Release
Monday, December 12, 2022 – Winnipeg, Manitoba.
With the full implementation of the RITHIM program fast approaching, we have some important and exciting announcements to share with the research community.
The full implementation of RITHIM, which will be achieved with the launch of the electronic RITHIM Provincial Research Administration System (RITHIM-PRAS), will streamline and harmonize the application and review processes for health research ethics, privacy, and institutional impact in Manitoba.
IMPORTANT CHANGES COMING INCLUDE:
RITHIM will launch the new RITHIM-PRAS in early spring 2023. Specific dates and detailed information will be communicated beginning in January 2023.
When the RITHIM-PRAS system is launched, there will be changes in processes for how health research approvals for ethics, privacy, and institutional impact are obtained in Manitoba.
There will be ONE application through RITHIM-PRAS for researchers to complete, which collects information required for ethics, privacy, and institutional impact reviews.
A tool to assist in the routing of applications will be posted on the RITHIM website in early 2023 to help researchers determine if they need to apply through RITHIM.
Training on the new RITHIM-PRAS system will begin in early 2023 and will be delivered through a series of targeted webinars. In addition, videos and other support material will be available on the RITHIM website.
The Committee for Harmonized Health Impact, Privacy, and Ethics Review (CHIPER) will become the new provincial health research ethics board and will operate in accordance with all applicable regulations, guidelines, and policies governing research ethics review functions including the Tri-Council Policy Statement: Ethical Conduct for Research Involving Humans (TCPS2).
Applications will be triaged by RITHIM for assessment by ethics, privacy, and institutional reviewers, as appropriate. RITHIM will ensure a consolidated response that includes all these perspectives is provided to the researcher
Transparent tracking of applications to ethics, privacy, and institutional impact reviews will be available to researchers through the electronic system.
The RITHIM team has been working closely with key stakeholders to develop an implementation plan that optimizes the use of the new RITHIM-PRAS application platform and supports the needs of stakeholders, researchers, and reviewers who will use the new system.
"This is really a bold step by the government and all the members of the academic health network in Manitoba to try and optimize patient-oriented research in the province. Overall, this should really make the process of conducting research much more efficient, transparent, and accountable. And, ultimately, it will benefit patients in Manitoba because they will get access to cutting edge clinical care that is being evaluated in the various research programs."   
 – Dr. Peter Nickerson Vice-Provost, Rady Faculty of Health Sciences and Dean for the Max Rady College of Medicine, University of Manitoba
WHEN WILL THE ELECTRONIC SYSTEM BE READY?
RITHIM-PRAS will launch in early spring 2023. As soon as the system opens, researchers can begin submitting applications and applicable delegated CHIPER reviews will begin. There will be a period of transition where existing processes and the new RITHIM-PRAS processes overlap. During this time, researchers will have the choice of submitting through RITHIM-PRAS or existing processes for ethics, privacy, and institutional impact reviews. Confirmation of those dates and clear instructions for researchers regarding this transition period will be released in January 2023.
WHO NEEDS TO BE READY?
Researchers and Research Coordinators
Researchers and their staff should be aware that a shift is coming in early spring next year in how they submit applications for ethics, privacy, and institutional impact reviews.
Post Secondary Institutions
Post-secondary institutions need to prepare for the launch of RITHIM-PRAS to ensure that their internal policies and procedures, as well as appropriate agreements regarding ethics reviews for health research, align with the new provincial system.
Health System Institutions
Health system institutions need to prepare for the launch of RITHIM-PRAS to ensure that their internal policies and procedures align with the new provincial system. Shared Health, in their lead and coordinate role within the health system, along with the RITHIM team, will continue to work with health system stakeholders to help prepare for this change over the coming months.
CALL FOR CHIPER NOMINATIONS
The success of RITHIM will be a shared achievement across stakeholders and the Manitoba research community. RITHIM needs reviewers to participate on committees in order to provide the robust, high-quality reviews needed for health research. Please consider supporting health research in Manitoba by participating on CHIPER.
For more detailed information on the CHIPER nomination process and member involvement, please click HERE.
QUESTIONS AND CONTACT
A "Frequently Asked Questions" page has been developed to provide additional detail and address questions received from stakeholders. Please click on the link to view this page: http://rithim.ca/rithimlaunchfaq
Please visit www.rithim.ca for more information and updates. Questions can also be sent directly to RITHIM@researchmb.ca.
To download the PDF version of this news release please click here